Trang An Scenic Landscape Complex: The "Inland Halong Bay" At Ninh Binh Province
The Trang An Landscape in Vietnam is often called the 'Inland Halong Bay'. With less than 100km drive from Hanoi, this is one of the places that attract millions of tourist every year by its majestic natural beauty and 250-million-year-old limestone mountains reflecting into the clear river water. Here are some Trang An travel experiences most helpful tips and information for your wonderful journey.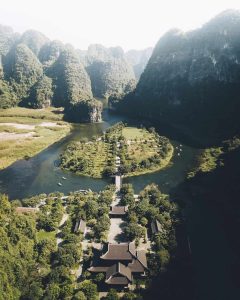 Trang An Complex from above (Image source: Internet)
THE TRANG AN SCENIC LANDSCAPE COMPLEX
Trang An Cultural and Natural Heritage Complex is located in districts of Ninh Binh province, including Trang An – Tam Coc – Bich Dong – Hoa Lu ancient capital – Hoa Lu forest. With a total area of ​​over 6000 hectares, Trang An Scenic Complex is formed by limestone mountains, fantasy caves, valleys and rivers that blend together, combined with dozens of historical relics such as temples, pagodas, shrines, bringing a mysterious vibe to the place.
This area has been ranked as a particularly important national monument by the Vietnamese Government and recognized by UNESCO as a dual world heritage since 2014 (Image source: Internet)
BEST TIME TO VISIT TRANG AN
Each different season, Trang An puts on a new shirt, that's why visitors always find things worth exploring here:
In Spring, when the weather is warm and mild, flowers and leaves sprout, tourists usually travel to discover and participate in special festivals such as: Trang An Festival (mid-March of the lunar calendar); Co Lau festival (March 8 – 10 of the lunar calendar).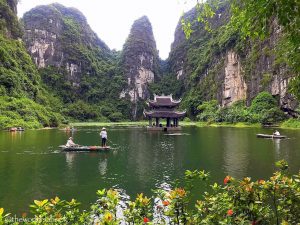 Spring in Trang An (Image source: Internet)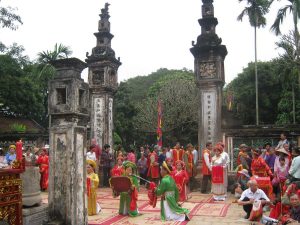 Co Lau Festival (Image source: Internet)
In Summer, this place is enchanting with ripe golden rice fields or fragrant lotus ponds. If you want to experience the feeling of sitting on a boat, floating on the river and watching the poetic golden rice fields, or the lotus ponds with sweet fragrance, you can come to Trang An between June and August.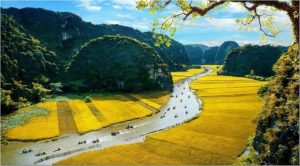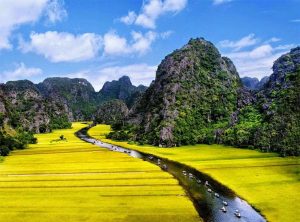 Golden rice fields in Trang An (Image source: Internet)
In Autumn, the weather is cool and pleasant, which makes Trang An ideal for outdoor sightseeing and exploration activities.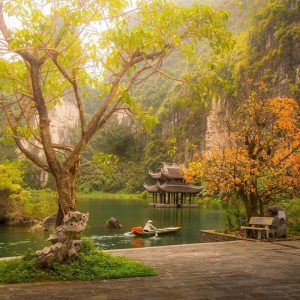 In Winter, Trang An hides in the mist like a fairyland.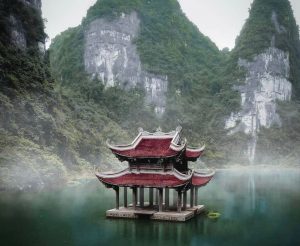 Mysterious caves
There is an extremely diverse system of limestone mountains and natural caves in Trang An. Many limestone mountains with steep cliffs embrace the whole valley, not to mention many clefts and cave mouths at the foot of which – these are the vestiges of sea erosion. That is also why the area of ​​Ninh Binh is also referred as "the inland Halong bay".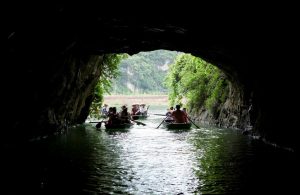 The charming and poetic natural landscape of the river has created a unique feature for Trang An that cannot be found anywhere else.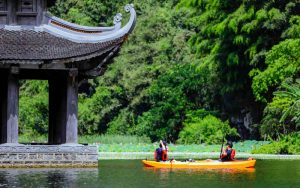 Kayaking in Trang An (Image source: Internet)
Usually, the journey to discover Trang An – Ninh Binh lasts within a day, visitors often book a homestay, hotel, etc. to stay overnight and then continue to explore other places on the next day. Due to geographical reasons, this place has not developed any overnight cruises to offer visitors chances to fully enjoy the wild and majestic beauty of the scenic area.
If tourists want to experience the feel of cruising, admire the details of each limestone mountain, spend the night floating on the water, and wake up in the morning to the majestic sunrise on the deck, it will be a big mistake if you do not experience Orchid Cruises on Ha Long Bay. Contact us now to enjoy this luxury and high-class travel service!