2022 TripAdvisor Travellers' Choice Award
Every year, based on the reviews and opinions collected from travellers and diners around the world over a 12-month period, TripAdvisor honours travellers' most favourite destinations, hotels, restaurants, and diners around the world. Thus, this prestigious award indicates that we are in the top businesses in the world as voted by travellers on TripAdvisor.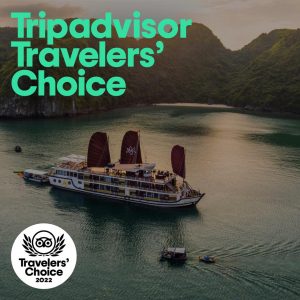 We are proud and honoured that Orchid Cruises has been recognized by TripAdvisor as a 2022 Travellers' Choice Winner, joining top 10% best cruises worldwide that consistently deliver wonderful experiences to travellers around the globe. We would like to express our sincere gratitude to all our valued guests and partners for your encouragement, trust, and above all, your love for the cruise that you have so generously shared on the world's largest travel guidance platform – TripAdvisor.
The award speaks highly of the great services and experiences have been provided by each member of the cruise team. It is a recognition for all the hard work and dedication of our staff, and also the greatest motivation and inspiration for us to thrive harder to go beyond our guests' expectations with higher service quality standards and create unforgettable moments every time you are sailing on Orchid Cruises to discover one of the World's Heritage Wonder, Ha Long Bay!