A glance of Vietnam haute cuisine on Orchid Premium Cruise
As the most luxurious cruise in the Bay, Orchid Premium is inspired by the architectural style of Indochina – a blend of romance and charm in French architecture, combined with traditional beauty and rustic materials of Vietnam. It is not an exaggeration to say that Orchid Premium is a symbol of luxury, elegance and sophistication, unobtrusive yet aristocratic, indeed. 
"It is just impossible to resist the temptation of sunbathing on the spacious deck and being immersed in the charming beauty of Lan Ha Bay"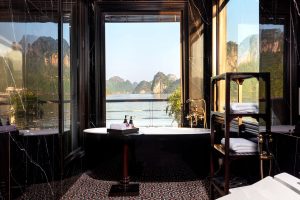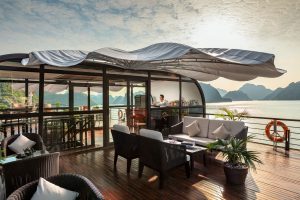 Apart from the activities on cruise, Orchid Premium also offers a variety of experiences for entertainment. You can either go kayaking to explore the beautiful region on your own, visit mysterious caves or join a squid fishing challenge together.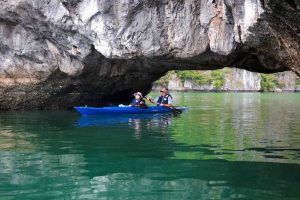 SPECIAL FOOD OF HA LONG – QUANG NINH
Floating amidst Lan Ha Bay, an area abundant in shrimp and fish, Orchid Premium Cruise presents a culinary menu which is resonant with plenty of local flavours and traditional dishes. The specialties of Quang Ninh waters that are sophisticatedly prepared by the talented chef such as Halong seafood soup, fishing village grilled fish,…will absolutely stun visitors at the first bite.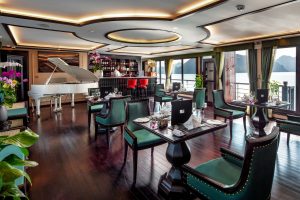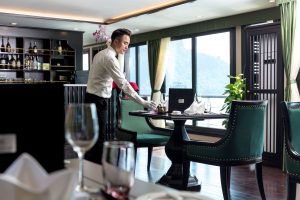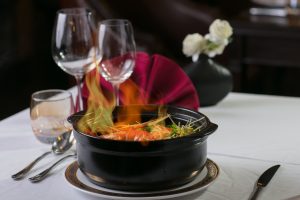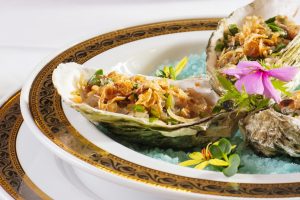 Halong handmade squid cake – a delicacy of Quang Ninh province
"Chả mực" (squid cake) is a delicious traditional dish which has won the favour of both local residents in Ha Long City and tourists. It tops the list of must-try dishes for visitors to the northern province of Quang Ninh.
According to Orchid Premium Cruise Chef, after being freshly caught from the sea, the secret to the distinguish taste of dish is adding a proper amount of sticky rice powder into the mixture, which helps the cakes to be firmer without being friable.
The balance of taste is also a top priority when it comes to dining on Orchid Premium, as all the dishes are seasoned in moderation as well as incorporating a variety of healthy vegetables. It can be said that the combination of luxurious ambience, dedicated service and meticulously prepared dishes with fresh ingredients amaze passengers and bring the dining experience to the next level.
Let Orchid Premium soothe the fatigue in your busy life with the charm of Lan Ha Bay and wonderful dining experiences on a first-class luxury cruise ship.
Content: WOWWEEKEND
Photos: Orchid Cruises